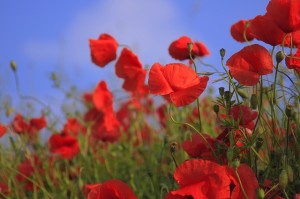 Do you love summer? Even if hot weather is not your favorite, there is something about summer that brings about new beginnings. Let's enjoy summer with all its lightness and fun!
This week's blog is a bit different  – we dedicated it to happiness, new starts and sunshine.
We gathered a few summer quotes for your enjoyment. We love quotes around Clayton Yoga a lot and use them as part of our yoga teacher trainings, too. Our favorite quote of the month is in red below.
Enjoy!
"And so with the sunshine and the great bursts of leaves growing on the trees, just as things grow in fast movies, I had that familiar conviction that life was beginning over again with the summer." – F. Scott Fitzgerald, The Great Gatsby
"Summer, after all, is a time when wonderful things can happen to quiet people. for those few months, you're not required to be who everyone thinks you are, and that cut-grass smell in the air and the chance to dive into the deep end of a pool give you a courage you don't have the rest of the year. You can be grateful and easy, with no eyes on you, and no past. Summer just opens the door and lets you out." – Deb Caletti, "Honey, Baby, Sweetheart"
"Summertime is always the best of what might be." – Charles Bowden
"Hey! It's summer! Be free and happy and danceful and uninhibited and now-y!" – Terri Guillemets
"Rest is not idleness, and to lie sometimes on the grass on a summer day listening to the murmur of water, or watching the clouds float across the sky, is hardly a waste of time." – John Lubbock
"Summer is the time when one sheds one's tensions with one's clothes, and the right kind of day is jeweled balm for the battered spirit.  A few of those days and you can become drunk with the belief that all's right with the world." – Ada Louise Huxtable
"A perfect summer day is when the sun is shining, the breeze is blowing, the birds are singing, and the lawn mower is broken." – James Dent
"Each fairy breath of summer, as it blows with loveliness, inspires the blushing rose." – Author Unknown
"Every summer has a story." –  Author Unknown
"The tans will fade, but the memories will last forever." – Author Unnown
"One must maintain a little bittle of summer, even in the middle of winter." – Henry David Thoreau
"In the depth of winter, I finally learned that within me there lay an invincible summer." – Albert Camus
Which is your favorite quote? Please in the comment section below!
This summer we offer an unlimited yoga package to you to celebrate of "what might be". Just ask your yoga teacher or Michelle about our 3-month yoga special in July!
Can't wait to meet you in the studio any day of this wonderful summer!