Here is what our yoga students have to say about Clayton Yoga classes
Read some of the testimonials we get from our yoga students!  And we want to see yours here too!
"I wanted to thank you again for taking the time to speak with me over the phone. I am on the right path though, and have a solid plan to make this work. It is not a question of "if," but "when." Thank you again, truly, for your kindness and patience. You thoroughly and sufficiently answered all of my most pertinent questions. I hope to speak with you again in the very near future". – Erika Alison
"Thank you for precious dedicated individualized care even during pre-application process." – Niraj Shah, M.D. – ABFM Certified Family Medicine Physician
"Thank you for your support and for sharing a phone consultation with me.., I am so looking forward to this journey with you for so many reasons and connecting more and learning from you and your life experience. Yes I know the preparation is so vital and getting organized too. I want to honor signing up for the Clayton Yoga training in a way that is playful and fun while also being gentle and nurturing with myself. Thank you so much for being supportive and understanding today, it means so much!" – Justine Dooley
"I've been troubled with sciatica resulting from an injury when I was 8 years old, which fractured my pelvis. A few years ago, when my sciatic began troubling me, I sought treatment and received injections between L4 and L5 plus daily meds. The Dr. suggested back surgery. I began taking Clayton Yoga classes and after a few weeks I found myself relying less and less on the pain meds. Although I am not completely pain free yet, I am taking longer morning walks with my wife, experiencing less discomfort. Taking Clayton Yoga classes for over five years and back pain free.  Thanks for offering yoga classes!!" S.P
"Yoga Classes at Clayton Yoga have taught me that a wise person may use "the Gate Keeper" concept. It is helpful for sure. Things are really good but then I start having expectations that are not likely to become reality. My quick emotional response ends up in the usual step back but I seem to be getting some control when I breathe deep, don't get overly worn out and return to the basic important things to work on in my life rather than going hell bent for leather on one tangent or another. You are truly a gift in my life. Thanks for the great yoga classes at Clayton Yoga!" Officer Nick Fredrickson 
Some of the testimonials we get from the participants of our Corporate Yoga courses:
"My blood pressure has dropped 50 points and nothing seemed to work. I love to practice yoga and I can feel my health is now in my own hands. Thank you so much!" Helen Zhou
My blood sugar is down to 5.5 from 6.2. Yoga works!!" Carla Johnson
My strength, energy and flexibility have improved after having 2 surgeries in 2009 for cancer." Walter Jones
"My stress definitely was lower the session I took yoga. Also my physical energy was improved. I could not do last session and definitely missed it." Susan Freise
"This class is a good stress reliever for me. Before taking the yoga class, I was having chest pains and I have not had them since starting yoga." Phyllis Dilworth-Weaver
"I had migraines up to 16 times a year before. Since starting yoga 7 months ago, I've had 2! I'm off my migraine maintenance medication, and only have pain meds for migraines now." Kathy
"Yoga has helped me reduce stress and tension. My balance has improved as I am getting older. The breathing aspect has helped me to quit smoking." Donna Boeger
"I lost 40 lbs over the past year. Yoga has helped me lose and maintain the weight loss and made me much stronger in the process. I love yoga!" Darlene Rich
"Yoga has helped me become stronger and calmer, improve my blance, and helped me maintain my goal weight as a weight watchers lifetime member." Paula Lemeiman
"Yoga gave me more flexibility in my joints, and I have better control of my stress and shoulder aches have disappeared." Nora Pullen
"Yoga is good in retaining focus on multiple tasks and demands at work and home. Also keeps me focused on improving my health." April Schutte Wilson
"Yoga increases my productivity in my daily job, by increasing my ability to focus, decreasing my stress level, increasing my flexibility and degree to which I am comfortable at my desk." Mary Coffindaffer
"Yoga has improved my overall health and attitude personally and professionally. I am stronger, calmer and more focused. I recently participated in the biometric screenings and ALL of my numbers were great." Natalie Warren
"Prior to yoga, my breathe was shallow and I was constantly choking myself. Now I know how to breathe more deeply and effectively and it has helped me to remain calm in stressful situations both at work and in my personal life." Katrina Sommer
"Clayton Yoga offers an amazing array of teachers and Yogic style. Michelle Maue, owner, truly knows how to teach students to utilize Yoga effectively in their every-day lives. If you are looking for an intimate setting plus certified and professional teachers, look no further than Clayton Yoga." Gina Grover
"I practice yoga with Michelle twice weekly. My health and strength has greatly improved. After two surgeries, I really needed something to get me back into shape. Finding Clayton Yoga was perfect for me". Walter Jones
"Michelle's class is an awesome experience. You lose all track of time and your mind goes into a different mode. If you have never taken a class, please do. Once you try it, you will be hooked!!!! Clayton Yoga is the place to go" Penny T.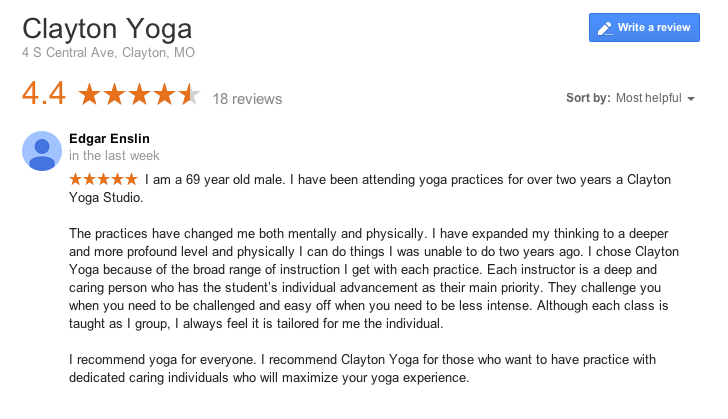 "I bought a Groupon and went to my first class today. What a wonderful surprise! I've taken a few classes at other studios/gyms (I'm new to the area). Yoga always felt like something that I should do–it would be good for me to stretch and relax. But until today I never understood why people actually LIKED yoga. It was relaxing and the environment was fun and supportive. I can't wait to go back."  Allison
Some of the testimonials we get from the participants of our Certified Yoga Teacher Training courses:
"I wanted to take the Yoga Teacher Training because I was ready for a deeper understanding of the asanas, fundamentals, anatomy, proper alignment and breath work of yoga.
The Yoga Teacher Training at Clayton Yoga is an amazing training. The program was the first to be certified through Yoga Alliance, which was important because I wanted a program that was accredited. The cost was very reasonable and competitive with other training programs in the area. Trainings can also be very costly in other ways such as timing and commitment. Michelle offers a 15 day intensive program that accommodated my schedule and was willing to work around any days that may have been conflicting.
I would recommend this training to anyone wanting to gain a better understanding of yoga. Michelle is a wonderful instructor/teacher. She is passionate about her work and creates a strong community within the program. I have formed many lasting friendships within the program while exploring my love for yoga. This training has been a transformational experience that has forever changed my life." Lindsay Dausman, RN
"I have gained so much through this yoga training. Mostly, I have learned that other people are a reflection of myself.  It's inspiring to be around people who are uplifting, healthy, and want to do good things for themselves and in the world.  I now know, I can contribute by being a positive force in other people's lives and that I can offer my knowledge and experience as well." Kristin Johnson
4 South Central Avenue, Suite #2, Clayton Missouri 63105
314-630-1677