Planning to get your yoga teacher certification in 2016?
Exciting News!  Dates for the Fall 200-hour Yoga Teacher Training are September 23rd-25th, 2016.  The cost is $2,450.00.
For more details about our this wonderful Fall Teacher Training Course, click here: http://claytonyoga.com/clayton-yoga-teacher-training-courses/.
Would you like to get the most up-to-date information on our Yoga Teacher Training Courses? Please sign up to our mailing list so you can get all the details as soon as possible.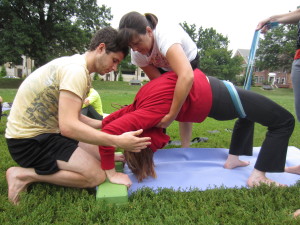 In order to become a successful yoga teacher on all levels marketing your yoga teaching is an important skill. This is why we decided to integrate a world-class Yoga Marketing series in our 200-hour yoga teacher training programs. You will participate live in four 2-hour training sessions (presented as a webinar or teleseminar) during your teacher training course.You will learn how to create your offers, how to attract your ideal clients and how to put together an actionable marketing plan for your business. You will also get a 4-week marketing blueprint ($897 value) that is guaranteed to set you off to an excellent start!

Clayton Yoga offers top quality teacher training instruction that not only teaches proper anatomy and yoga asana building blocks, but also empowers the student to play the edge and follow their own unique yoga breath.
Clayton Yoga Teacher Training covers entirely the basics of Yoga Anatomy and explains more importantly why everyone's body is different and how to create sequences for all levels and backgrounds. For some headstand, may be a great posture, for others, this may not be the case. In this course, you will learn why some poses work for some, while not at all for others.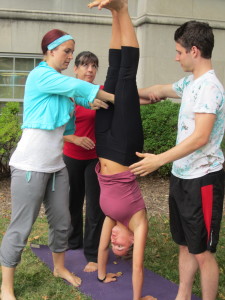 In great yoga, what is even more important than 'the perfect pose' is being inspired and trusting in yourself. This course is designed to empower students to find their own fullest potential and creative possibility.
Clayton Yoga Teacher Training courses are geared for individuals looking to both practice and teach yoga from a place of greater inspiration.
Challenging yoga postures teach us to honor the difficulties of life, keep approaching, taking risks, and learn to stay calm, breaking postures down into do-able moments. According to yoga, being okay with your weaknesses is the real strength. This is at the heart of finding inspiration, and connecting to live in a more authentic and natural way.
Everything in life contracts the body. Yoga is the only system designed to expand, relax and open the body and mind. Let's enjoy and expand today!
It is recommended that every applicant for this training have at least one year of yoga practice.
Clayton Yoga offers 200 hour RYT level certification courses in St. Louis, Missouri.
CLAYTON Yoga Teacher  Training, St. Louis, Missouri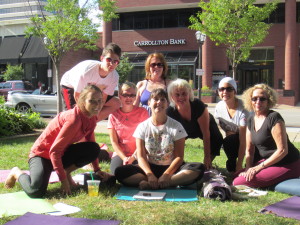 Have questions about out trainings? Call us at 314-630-1677!
For more information on our local Teachers Training Course, please click here!
Our Yoga teacher Training Courses fill up very quickly. Please reserve your place today!
Please download the application form to our Yoga Teacher Training here.



IGNITE YOUR Spirit…. 
"You wouldn't have the desire, if you did not have the tools to achieve it."  Emerson
When we receive your information, we send you a vision/creative exercise, a strategy and objective statement and a welcome letter and packet.  Please have a 3 ring notebook and categorize 8 separate subjects: Breathing, Yin, Ashtanga, Sanskrit, Anatomy, Adjustments, Sequence, and Backbends/Inversions.  Then we will submit to you a beautiful 184 page teacher training manual, including 100 recent yoga research findings.  On the last day of your training, students will receive a certificate of completion which then allows you to register with Yoga Alliance and thereby acquire your 200 Hour Yoga Alliance Certificate.
Some of the testimonials we get from the participants of our Yoga Teacher Training  Courses: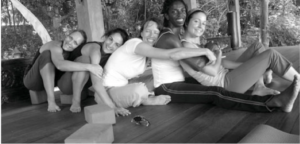 Clayton Yoga, since 2004, has graduated over 500 yoga students internationally.  Michelle Maue, has 5 years as a professional tennis player and over 14 years experience as a corporate and studio yoga owner.  You are welcome to join us as we create a loving, playful and highly supportive atmosphere where each and every student is encouraged to go at their own pace.
Vinyasa yoga, combines breath and sacred movement to help you find your 'inner mojo' and deep relaxation.  Clayton Yoga Teacher Training gives you the basic tools to learn how to access your center and utilize yoga breath bringing sacred movement not just to your mat, but your entire day.  Vinyasa movement is especially effective for deepen one's personal practice or teaching at gyms, schools, corporate or yoga studios.
4 South Central Avenue, Suite #2, Clayton Missouri 63105
314-630-1677