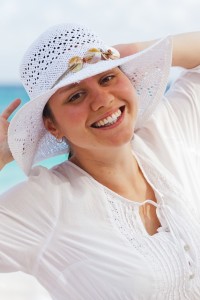 Do you remember January 1st when you made all those resolutions for this year? Going to the gym, taking up yoga, eating healthy, sleeping 8 hours per day, losing weight, learning Italian, writing a book… What did you want to change in your life this year?
How successful are you so far in making those resolutions happen?
The second half of the year began today. Are you closer to your goals today than you were on January 1st?
It is not too late to recommit to your goals again. Today is a perfect day to look at your resolutions again and select a few, maybe 1-3 goals you really want to work towards in the second half of 2013.
Why not just take over the list you had when the year began? Your situation and aspirations might have changed in the last 6 months.
Plus we tend to include too many things on our wish list as the new year begins. We want so many things to change in your lives, we just cannot stop at having 1 resolution and not take up 10. In reality we have limited time and resources so out of the 10 goals we have the capacity to work on only a few.
Take a few minutes to ponder these questions:
What is important now?
What would you like to keep from your goals?
What goals would you like to let go?
It is important to take time now to commit to your old-new goals. What happens if you don't? Most probably you will completely forget about them until the evening of December 31st. Only to put them again on your resolutions list for 2014.
There are some goals that nag at you every day… whenever you go for a check-up, you promise yourself to live healthier. Whenever you feel you cannot take the everyday stress any more, you promise yourself to take a yoga class every week and meditate every evening.
And then… nothing happens. You don't eat 5 servings of fruit and veggies and fall asleep even before you remember you wanted to meditate. You feel like a failure.
You don't fail until you give up on yourself! It is never too late to take the first step and change how you live. Begin slowly, there is no rush. Take a small step every day: eat one extra serving of fruit today and feel great about it. Tomorrow take an extra apple to work so you have something healthy to snack on in the afternoon. 
Come and take a yoga class with us and enjoy an hour of relaxation and calm at the studio! Then come back next week to enjoy the serenity of yoga practice again.
This month we would like to help you to recommit to your health and stress free living. We offer an unlimited 3-month yoga package for an amazingly affordable investment of $150. Come and join us this summer! Just taking one class per week will work wonders for your health and wellbeing.
With this special 3-month yoga card you can take as many classes as you would like! Take a yoga vacation and come to the studio every day – now that is wonderful way to take care of yourself!
You can purchase the 3-month unlimited yoga card through our secure shopping cart – just click this link now!
See you at the studio soon!