Corporate Yoga Programs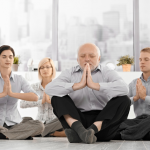 Since 2004, Clayton Yoga has initiated over 10,000 corporate yoga classes and launched many ongoing successful wellness and yoga corporate programs in various companies throughout the metro St. Louis area. Clayton Yoga style of yoga taught includes vinyasa, yin, restorative and breath work.
Are you a company representative and would like to implement yoga and inspire your staff to new levels of fitness and health, please give us a call!  Please contact us by emailing claytonyogastudio@gmail.com or calling Michelle Maue, at 314-630-1677.  
As we get older, the tissues of our body store of the issues of our mind.
Faced with challenging circumstance over time, we may feel overwhelmed by life's curve balls, and not knowing how to relieve tension, we may store it up in our body as knots. Gentle yoga classes that begin slowly may get very challenging and difficult allowing students to squeeze out tensions and stress.
The yoga postures covered in these corporate classes increase circulation and oxygen to the body. Also because we stretch our internal organs a lot in yoga, these movements improve our digestive function, sleep patterns and bring a greater sense of clarity and well-being to our brain. This in turn changes decision making, improves lifestyle choices and gives the student added tools of relating to the world in a more wholesome, patient and loving manner. Implementing a corporate yoga wellness on-site program is easy and requires only one-two hours of company time per week!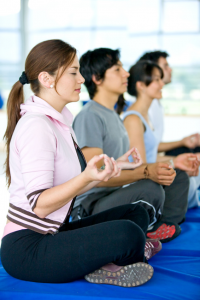 All of our yoga teachers have completed the same Clayton Yoga Teacher Training 200 hour Yoga Alliance course and will teach your staff dynamic, safe, challenging and wonderful yoga today…
Workplace Yoga
improves morale in the workplace.
increases productivity and communication.
increases concentration and decreases anxiety and tension.
improves efficiency and reduces muscle tension and pain.
reduces sick time and absences.
improves ability to manage emotional stress.
improves sleep and decreases blood pressure.
reduces carpal tunnel syndrome and normalizes weight.
improves memory, concentration and cognitive function.
increases happiness, energy and vitality, improves self-esteem and builds stronger team bonds.
Are you interested in offering a corporate yoga program in your company?  Please send us an email with your questions and contact details below!  We will get back to you in 2 business days!
4 South Central Avenue, Suite #2, Clayton Missouri 63105
314-630-1677