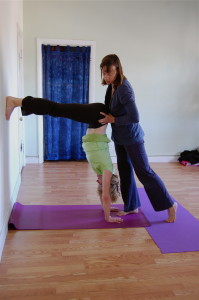 Have you ever thought about taking a private yoga class with your favorite teacher instead of practicing in a group environment? Let's have a look if a yoga private if the right choice for you!
Your need special attention
Especially if you have a health issue or after an illness, your needs might be very different from everybody else in a yoga class. You will need special attention from your teacher and a private class will give you exactly that. Total 100% attention to your needs! In this environment it is easy to customize the poses and sequences to fit your situation.
For example if you suffer from arthritis, special modifications or using props will enable you to practice yoga without experiencing pain. Let your yoga instructor show you how to best do these!
If you are looking for therapeutic benefits after injuries, during a private class it is easier to find the best solutions for you.
Sometimes especially if you go through a lot of stress or a crisis, a private will give you a chance to open up emotionally without feeling embarrassed about it. If a few tears might roll or you experience the heaviness of your emotions, you are in a safe environment with your teacher. Of course yoga practice is not therapy, nor is it health or life coaching, but it is easier to breathe through those moments of upheaval if you can do it in the privacy of a class.
Too competitive and distracted during a group class?
Do you feel distracted by the other students in the class or feel the need the check out what everybody else is doing? Just having you and your yoga teacher will solve this issue! Why don't you ask for a special breathing sequence to get into a more focused mindset during a class?
Comparing yourself to other students is an easy distraction. No matter if the person to your left can stay in a pose 10 second longer than you or seems to be more flexible… this doesn't say anything about the quality of your practice or the benefits you get out of it. But it is easy to get competitive and feel bad about your own "performance" if your attention is on the other students. Let your yoga teacher draw your attention to your own self … it is nice to have all that special attention to you sometimes!
You are new to yoga
If you never tried yoga before, it is a great idea to take a few privates to get into the flow of practice. You need to understand the yoga poses and breathing exercises in order to develop a safe practice. This is easier to achieve in a one-to-one setting.  You will be up to speed in no time and be able to practice in a group class after a few sessions.
Even if decide to take yoga privates just for a limited time, it is worth the investment of your time and energy! You can go back to group practice as soon as you feel that your needs will be met in that environment, too!
Did you know that you can easily book private classes with our Clayton Yoga teachers? Just go to our shopping cart and scroll down a bit, and you will be book a session with your favorite teacher. If you need assistance, just give us a call at 314-630-1677! We are here to help you to set up your yoga privates quick and easy.