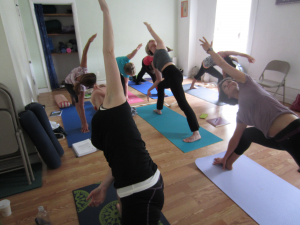 Purchase a Yoga Class Card on-line and receive A FREE YOGA GIFT BAG with flowers, music, candles, tea and more!  At Clayton Yoga, we offer fun, friendly and very experienced daily drop-in yoga classes since 2003.  Our studio is located on the corner of Forsyth and Central above the World News Building.
All of our yoga classes are small and very supportive.  Yoga instructors at Clayton Yoga will guide you to combining yoga breath with sacred movement and bring your mind and body back into harmony, balance and bliss.  Every class will build upon the last, as you playfully set the spirit free, let go of a lifetime of holding and illuminate greater confidence, certainty and courage.
Students at Clayton Yoga report greater life satisfaction, vitality, lower blood pressure and an improved resilience to stress.
To sign up for a yoga class card, please visit our secure shopping cart to purchase your yoga class card.  You may of course also purchase a yoga class card anytime at our yoga studio.  Lastly, you may call 314-630-1677, for quicker customer service, from 8am-6pm Monday thru Friday.
All students are eager to learn the anatomy of each posture and the in's and out's of correct yoga sequencing.
Our next Yoga Teacher Training event begins January 19th and 20th, 2013 and to sign up for this training and more information, again please click: http://claytonyoga.com/clayton-yoga-teacher-training-courses/ 
There is never a better time to invest in a new yoga class card and motivate yourself, to greater health, peace, and happiness.