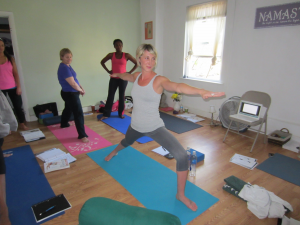 The upcoming local Yoga Teacher Training course begins January 19th + 20th, 2013 and has one space open.  In addition, the 2nd training course this new year will begin April 20th + 21st, 2013.  We only permit 7 applicants per teacher training!
Imagine getting Yoga Alliance certification in 2013 and being ready to teach or practice fantastic yoga anywhere in the world?  This Clayton Yoga teacher training program includes the best quality instruction available in the industry today.
Love, as I am learning is a constant energy that does not begin and end. Each of the people in your life that you have loved whether for a day or a lifetime are a mirror of discovering your greater true self.
Our long teacher training days provide us with continuous reminders of this loving good energy.  Wayne Dyer says that our thoughts co-create our reality.
When we begin at the beginning, we notice our breath, whatever we are doing, and we begin to get more present.   When I become quiet, I collaborate and learn from others and strengthen my own ability to be with my blindspots.  I am able to let go of competition and the old world model, and instead shift into the new world order of collaborating, helping, forgiveness and inspiration.
And just the way the sun glimmers across the top of the ocean, our mind also finds new treasures and jewels of authentic power.  We can utilize these loving yoga postures to make lifestyle choices that service our spirit and capture our hearts, soothe and coax our deepest longing to come forth and feel this universal guidance always with us.  Yoga is a 5,000 year-old practice that reintegrates the mind, breath, and body, providing each practitioner with an ability to recognize one's own true nature: inner wholeness.
To register for the January Yoga Teacher Training Course or the next APRIL YOGA TEACHER TRAINING here in St. Louis, please refer to our main yoga teacher training page here.
Do you still have questions? Read our FAQ pages here.
Namaste!