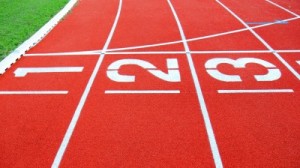 Yoga is about being at home in your body, in your bones, muscles and every cell of the body. Being in the flow of life as your blood rushes through your veins.
Yoga is enjoying what you can do and not always thinking about what you cannot do – yet. Your practice gives you an excellent chance at exploring your limits. It will gently encourage you to look at your own barriers – barriers of limited thinking you imposed on yourself, your body and soul.
Can yoga then ever become a competition?
Can you resist comparing your flexibility, your alignment or fitness level against other yogis' abilities?
It is natural to compare… we do it all the time.  And it can be a very positive force in our lives!
But there is a huge difference between making a simple comparison and think: "wow, she/he has much better flexibility and balance than I do!" and being OK with that. And then feeling inspired to practice a bit more focused on your flexibility and balance. It is an awesome motivation to see what is possible!
There is a difference though if you feel an ego-driven rush to push yourself relentlessly to be the best in class with the most flexibility in every muscle of your body. Why do you have to compete against your neighbor on the mat?
Live and enjoy the current moment! You don't always have to compare yourself with others to see how well or not well they are doing. The calm and peacefulness and good health yoga provides is enough reward.
The use of yoga for health and even spiritual development focuses more on your mental and emotional state while holding the pose, not the perfection of the pose according to some ideal.
It is so easy to look outside all the time. Have you ever felt a tiny bit of embarrassment because of your yoga clothes or your mat when joining a new class? While we all love looking our best… the clothing you wear doesn't make a difference, either.
If it is your well-worn, 10-year-old pants you have on or a brand new designer pants from the hippest yoga store … it all doesn't matter at the end of a yoga class.
What matters is you!
You – making the commitment of showing up 1-2 weekly for your classes.
You – getting into flow and enjoy the body you are given
You – challenging yourself again and again and again. Trying new frontiers and taking the next pose.
Yoga is for you and not for impressing somebody else.
You can only compete against yourself. There is nobody else. Only you can get the gold medal!
Make the commitment for yourself – come to class at least once a week! Feel free to try out the different styles of our teachers. Trying a new flavor spices up life so why not take a class with one of our new teachers for a change?
We offer 15 different classes every week – most days we have 2-4 yoga classes to choose from. If there is a particular class time that would so perfectly fit your busy schedule, talk to your yoga teachers or Michelle about your wish!  And if there are enough people interested in coming to the studio at that time, we can easily include a new yoga class into our schedule.
This is the beauty of a boutique studio… we can be very flexible.
Have you seen our January Hottest Deal? You still have 3 days to take advantage of our crazy 6-month unlimited yoga package for the low investment of $300! Get your unlimited yoga class package through our secure shopping cart!
Strive for a life that is genuinely yours! Strive to be happily home in your body!
Copyright (c) 123RF Stock Photos