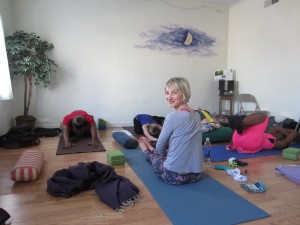 Since January, we have expanded our class schedule to include 5 all new yoga classes and we are adding two more new classes this month as well.  We present new yoga instructors, too in February. One of them is Kristin Johnson (in the photo above) our latest yoga training graduate. She now teaches a corporate class and CY class once a week! In life, stress is designed to make us stronger, better people.  When we do not take enough time however for relaxation, appreciation, and to enjoy the life, we become competitive, suffer poor health, and feel too stressed.
This month, we focus on the great benefits of yoga and its ability to bring our life back into balance.
Every Yoga Instructor at Clayton Yoga has completed the same Clayton Yoga Teacher Training Program rated as the highest level of standards in the yoga industry.  In January, we sold out again for our local yoga teacher training. On April 27th + 28th, 2013, we begin an all new yoga teacher training.  We have 5 spaces available and we would be happy to offer you a free 20 minute phone consultation, to help provide you with more information about what happens in a 200Hr Yoga Alliance Teacher Training Program.  Click here for more details: http://claytonyoga.com/yoga-teacher-training/
February promotions to help you invest in your wellness and healing are back!  Anytime in the month of February, when you bring or refer a new friend to Clayton Yoga, you will receive two free yoga classes. For more details check out our Hot News page!
We have a very special Turtle Promotion only for our monthly newsletter subscribers this month.  The Turtle will give you a free 4 class yoga card when you buy one 4 class yoga card. It is not too late to become a subscriber! Look to the right and you will see a sign-up box titled "Discover the Power of Breathing – get your mp3 download now!" You will not only get your mp3, we will also email you the secret code you need to lock in your Turtle gift!
In just a few weeks, Clayton Yoga will present a yoga demonstration at the St Louis Working Women Survival Show!  Tickets can be purchased online at www.wwssonline.com . The dates for this fantastic event are February 23rd, 2013 at 4:00-4:30pm and February 24th, 2013 at 12:00-12:30pm.  We will be offering a fantastic yoga sequence for energy, vitality and joy!  Along with a special yoga handout and free giveaways.
Did you know that Clayton Yoga also offers on-site wellness classes to keep that momentum, excitement and positive energy of yoga going? For the past ten years, we continue to offer over 9 corporate yoga classes weekly and we are quickly growing.   Let's help you get corporate yoga wellness on-site classes started today – just call 314-630-1677!
Thank you Clayton Yoga Teachers for your enthusiasm and generosity of sharing and enjoying Vinyasa Yoga.  Also, we would like to take a minute to thank the yoga students who have shown courage to be open, receptive and spacious in our practice of yoga.  See you at Clayton Yoga or a Clayton Yoga sponsored event sometime soon!!
Namaste!