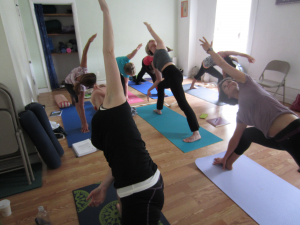 For ten years, Clayton Yoga has been offering Vinyasa style of yoga.  Whether you are brand new to yoga or have an advanced yoga practice, you are welcome to try any and all of our classes.  ALL LEVEL YOGA CLASSES put the focus on you, not perfecting postures but learning to be compassionate and celebrate both life's ups and downs.
EVERY BODY can do YOGA!  The style of yoga at our studio is VINYASA YOGA. The true definition of Vinyasa is to 'move' with 'breath'.  We begin every yoga class at Clayton Yoga with 10 minutes of breathing. From there, we build a stronger foundation, using principles of anatomy, adjustments, and stories, metaphors and encouragement.  These ancient postures are designed to put pressure on the meridian body opening a network of over 72,000 nadis or energetic openings.  This is why is feels great…
When you listen to your body, you find that things are not always so smooth.  Yoga builds discipline and provides a systematic way to learn to be present. Our sequences are safe but also very challenging.
Learning to play the edge is very important in Vinyasa yoga.  When we step outside these "comfort zones" or exit patterns to the present, we may feel insecure or threatened.  We practice and notice the sensations change, however, we do not react, then our equanimity becomes stronger.  With practice, we understand that what looks scary in life could be wonderful and what looks easy, can lead to many other complications later.  This means that the yoga is working!
When we are circulating lots of prana or energy throughout our body, we feel great.  Working with the body and the stiff tight places, we open and release energy trapped in the body.
The emphasis is on challenging postures continually coming your way and asking you to remain calm and stay focused to your breath.  Then through this team building strategy, you learn how to be present with it all, and be more supportive to others as well.  The bigger the team, the strong the net.  When we are too stressed, going to fast, we cannot really be there, we feel weaker and actually can get quite depressed or anxious.  Then we cannot really be there for each other.
Yoga reminds us to take care of ourself, to make our body strong, to flow with our mind, and follow our heart.  When we encourage ourself to go at our own pace, we discover a whole world and we can inspire others through our own example.  Trust in yourself and enjoy the practice.
Osho, a famous meditation teacher said that even his mind is busy.  He experiences anger, but the difference is, he does not get caught by it.  When we can discipline our mind through compassion and love, we naturally feel inspired and motivated to live a healthier life.  That is the better way!  We want to have healthier love, make better choices and share in life's joy.  What is better?
Be good, feel good, do good…Visit into our yoga studio today!  Just click here: http://www.secure-booker.com/bellayoga/ShopOnline/Series.aspx