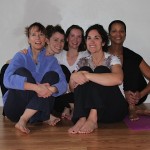 Every year, Clayton Yoga hosts a fall Yoga Alliance Certified Teacher Training.  The training which is led by Michelle Maue will begin on September 15th + 16th, 2012.  Our current training is completely sold out.
If you wish to sign up for this course, or have any questions about this wonderful upcoming event, please let us know, and call 314-630-1677. We will be delighted to speak with you!
Clayton Yoga's teacher training requires students to complete 180 yoga contact hours and 20 non-contact hours. This is in line with the requirements to obtain a 200 hour certification with Yoga Alliance.
In this course, Clayton Yoga covers the basics of breathing, restorative yoga, yin yoga, ashtanga yoga, anatomy, sanskrit, meditation as well as how to break apart complex and advanced yoga poses.
As a yoga teacher, it is first imperative to be yourself.  When you feel comfortable to be yourself, then everyone will feel that energy and be more relaxed.   At Clayton Yoga, rather than thrill students with dazzling advanced postures, or one up the students, we prefer to demonstrate how to really connect and get on the same level as our students.  We present the basics in the most simple and direct way.
By giving instructions on how to breath correctly, we show others one of the most important tools, that of awareness for our breath.  Rather than try to achieve a special kind of breathing, what is most important is to simply keep the attention on the breath. It is  natural and okay, to lose our focus, and when we return to the breath, enjoy that moment. The important thing is not to judge yourself, but remain gentle and give yourself plenty of encouragement.  And remember a great quote I heard from a very important friend of mine: "No one is any better or any worse than anyone else".  Yoga is a time for yourself.  It is a time to give yourself plenty of space to make mistakes, to listen and grow.
The postures are challenging but help us to become strong.  When we stay in our comfort zones in life, often we do not grow.  So we learn in yoga, that all life is difficult but this challenge makes us strong and better for the journey.  Everyone's edge is unique and while it is important for the teacher to support and encourage students, it is always the students responsibility to listen to and honor their own body.
By listening to the breath, students become aware of where their edge is and how to cultivate the place which is not too painful or not enough.  The single best yoga teacher is always inside us!  Each of us has tendencies to be too controlling, defensive, judgmental and blaming.
By better witnessing our habits of reacting, we increase the space between the stressor and our response.  When we do, we create more space, more awareness and transform our experience in order that we may better choose and co-create our reality.  Standing at the edge of a pose brings up our fears, joy and distractions.  By learning to be completely present with all that is occurring whether it be pleasurable or painful, we better allow ourselves the access to inner peace or equanimity.  Yoga gives us the precious opportunity to honor the self and come back to our awareness again and again and transcend negative patterns.