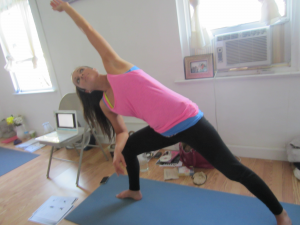 Welcome to our blog post series featuring Clayton Yoga's yoga instructors answer questions regarding yoga and why they got started.
The third blogpost in our continued series, we proudly present Angela Kalist, yoga teacher extraordinaire, and also another wonderful yoga teacher currently in training with Clayton Yoga.
What made you want to consider taking yoga?
I have an office job where I sit in front of a computer all day. This has caused tension to build in my neck and shoulders, not to mention the lack of movement in the rest of my body throughout the day. My body just ached from basically doing nothing. So I knew I needed something, but wasn't sure what that something was…My dad called me out of the blue and asked if I would take a yoga class with him, I was intrigued and agreed.  After the first class I was hooked, the intructor was Amazing and my body felt great. That was around three years ago and now yoga has become a part of my everyday life.  I can't imagine a week without it!!
How did you fall in love with yoga?
With life's unexpected twists and turns, yoga quickly became a "safe haven" for me. Everyone is struggling with something and with this practice it is taught we are all equal. In this yoga studio, or regardless where you practice, you are an equal and no judgment is passed. That may be my favorite concept.
How does yoga benefit your life?
Some days are difficult to concentrate. I found myself constantly rushing and all too often looking ahead and missing out on the opportunity to enjoy life to the fullest. Yoga has taught me to clear the mind and focus in any situation.
What change do you experience in your life as a result of your yoga practice?
Since practicing yoga I am able to allow my mind to focus on the present.  I can calm myself in any situation.  My stress levels are lower, I am more appreciative as well as thankful.
And don't let me forget my flexibility has increased substantially and my body no longer aches. I have also noticed a difference in strength and muscle tone.
Would you share your favorite yoga tip?
If you allow it, yoga will benefit you physically as well as psychologically.  Don't take yourself too serious.  Have fun and smile!  We all get stuck in ruts and routines, sometimes we just need a little push to try something different and new.
For more information on getting yoga classes started at your company or practicing at our yoga studio, please contact us through our Contact page.