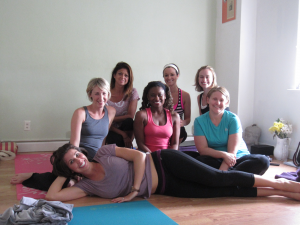 Welcome to our continuing blog post section featuring Clayton Yoga's very own instructors answer questions regarding yoga and why they got started.
This second blogpost of this feature presents Krista Lowe, a wonderful yoga teacher currently in training with Clayton Yoga.  Krista receives many positive comments from our yoga students and is a great addition to our current yoga teacher training. (Krista is front and center on the photo attached)
What made you want to consider taking yoga?
I have been practicing yoga for 4 years now and first started teaching in college at the University of Missouri. I am also a nurse and have taken care of many sick cancer patients; many of whom that did not survive.
How did you fall in love with yoga?
I noticed that in my patients histories many of them smoked, were obese, had high cholesterol, diabetes and heart disease. After working so close with death, I made a silent vow to pursue yoga. By teaching yoga I want to educate my clients on ways to prevent disease and live healthier stress free lives.
How does yoga benefit your life?
My personal favorite benefit from yoga is the freedom I experience from my negative thoughts. When I do not practice yoga regularly I find myself becoming angry at the most insignificant things. My mind will constantly be racing with thoughts and it becomes hard to sleep at night. Once I get back into the yoga studio regularly my mind becomes clear again and the blessings in my life shine through.
What change do you experience in your life as a result of your yoga practice?
Starting to practice yoga is no easy task due to having to train the mind and breath. Also the postures can feel awkward and lengthy. I felt this way the first two years of my practice.
Would you share your favorite yoga tip?
I encourage newcomers in yoga to not judge themselves or expect their practice to look like anyone else's. Give your body time to accept the new practice and enjoy the deep breathing in the process. Namaste!
For info about getting yoga started at your company or visiting our yoga studio, please contact us through our Contact page.