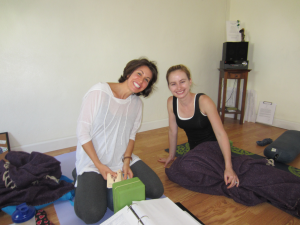 The fourth blogpost in this continued series on our Yoga Teachers at Clayton Yoga, we proudly present Brittany Cloud, loving wife, long distance runner and beautiful person with much loving energy to share at our Yoga Studio. (Brittany is on the righ hand side of the photo above)
What made you want to consider taking yoga, Brittany?
I first discovered yoga while in college at UM –St. Louis. Initially, the positive attitude I saw in my yoga instructor drew me in and I wanted to know more about the "why" behind the practice. I was studying philosophy at the time, so this was a fantastic compliment to my eastern philosophical curiosities.
How did you fall in love with yoga?
At first, I did not distinguish yoga from any other form of exercise. Over time, I realized that I love yoga because it conditions both the body and trains the mind. I am athletic – I run, swim, and bike as well, but sometimes I take on too much in life and lose focus. Yoga helps me re-center and focus.
How does yoga benefit your life?
A personal benefit I get from yoga is the deeper understanding of the principle of nonviolence. I love to show compassion, but sometimes I find myself in unhealthy situations if I become too attached. Yoga emphasizes that each person has the ability and permission to simply "love and let go" and develop greater trust within. That has been a great benefit to me.
What change do you experience in your life as a result of your yoga practice?
I have noticed that I have a much more positive outlook on life. Most importantly, it has taught me the timeless value in taking care of myself.
Would you share your favorite yoga tip?
I would suggest every new yoga student learn how to "play their edge" but be patient. There is no such thing as a perfect yoga pose because of our unique anatomy. Every pose will look and feel different for everyone. Be kind to yourself, and remember to have fun!
Would you like to get more details on getting yoga classes started at your company or practicing at Clayton Yoga, please feel free to contact us through our Contact page.
Hope to see you soon at the studio!