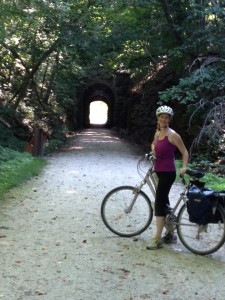 This week, we feature Lisa Watson, an associate editor for Ladue News and fabulous yoga student with Clayton Yoga who talks about the amazing benefits of yoga.  Lisa Watson tells us also about her experience as a first time yoga student with Clayton Yoga.
Recently, Lisa was set back with a minor car accident and found her back was very tight.  Within 48 hours, she decided to try a yoga class with Linda and felt it was very challenging.  The next day, however, she woke up feeling much better.  Lisa feels she is much more confident in her body's own healing mechanism and is 90% better and on the road to perfect health once again.
At first, Lisa felt a bit intimidated, and wanted to practice yoga with a DVD at home.  She thought that having a little familiarity with the postures would help her feel more prepared for an actual yoga class with Clayton Yoga.  Gifted with a Groupon from her boyfriend, she decided to start practicing at Clayton Yoga one year ago. Since then, Lisa has made the commitment to come into class one to two times per week.  She enjoys attending Linda and Kristin's yoga class and finds these two yoga instructors friendly, open-minded, casual and highly supportive.
Lisa recommends all new students try out Clayton Yoga because the environment is very down to earth, friendly, non-dogmatic and non-intimidating.  Going to class and having an instructor offers more interaction and encouragement.  In one yoga class, Lisa remembers being inspired by Kristin Johnson's words: "No effort is wasted. Keep practicing, even if you can only hold the pose for one or two breaths."
A regular weekly practice keeps Lisa's joints and body healthy and enjoying a running routine and long bicycle rides.   Last summer, Lisa took the Amtrak to Sedalia and accomplished the 200-mile bike ride back to St. Louis.  This bike path along the Katy Trail was really fun, Lisa says, and one day she completed more than 50 miles.
Lisa finds that the all-levels class approach offers her a great combination of difficult, challenging yoga postures without the strict under tone of competition. Lisa finds classes at Clayton Yoga helpful for so many different things, whether you are seeking greater peace, strength training, flexibility, balance, or learning to practice relaxing and breathing deep at the end of a hectic workday. After attending Clayton Yoga classes for nearly a year, she still finds yoga classes even more interesting and fun. Lisa recommends yoga to help you to go with the flow more and make those dreams come true!
Are you interested in attending our yoga classes for the first time?  Why not go to the St. Louis Post-Dispatch and purchase a 30 day trial promotion.  Just click here!
Also, would you like to deepen your yoga practice or become a yoga instructor?  Will you be one of our new students? Clayton Yoga Teacher Training offers many opportunities to teach in any setting including gyms, corporate companies and even yoga studios.  We teach you the basics, then show you how to creatively customize yoga sequences to your own style.  Click here for more details about our teacher training courses: http://claytonyoga.com/faq and http://claytonyoga.com/clayton-yoga-teacher-training-courses/