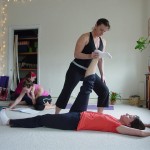 New courses coming in January 2012!
Community Yoga Class
1st Friday of every month
 4:30-5:30 pm Donation Only or ($12)
This yoga class with Alyssa will open your mind, jumpstart your inner power, ignite your spirit and dissolve layers of tension and stress! We'll kick off our your shoes and get you in your best shape ever  This  beginning level class is also a great workout for those more advanced.
Everyone is welcome….Please join us. 314-630-1677 or just stop by!