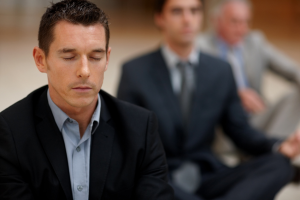 Clayton Yoga since 2003, has been offering an easy way to implement on-site corporate yoga classes.
Numerous double bind research studies say that even just one yoga class lowers your blood pressure and dissolves cortisol, the toxic stress hormone in the body.
Workplace yoga also offers a better way for local business professionals to chill out at their desk, get into better shape, unwind and find greater productivity, all within their own workplace. For the past 10 years, St.Louis Corporate Yoga has been showing companies just how to reduce healthcare costs, improve employee morale and increase job productivity. Corporate Yoga also offers employees a chance to have greater energy, vitality, joy, and less back and neck pain.
Don't just take our word for it, hear what our past students have to say about St. Louis Corporate Yoga:
"Regular classes give me a better ability to focus on time consuming projects, produce better quality work, experience more energy throughout the day, and address underlying health issues," Natalie Warren, Office of Services Representative for the Department of Revenue.
"Michelle and her staff are passionate about what they do and very respectful of each yogi who comes to class. This is a great stress relief and great low impact fitness workout. The price is right, low cost sharing with our sponsor, Anthem Blue Cross and Blue Shield," Anna Gail, Director of Employee Wellness for St. Louis County.
"Yoga helped me to detach from the problems, lower my stress and anxiety, push distractions away and increase my flexibility. I also love the music and quiet soothing instruction. I find that many of the movements alleviate my back pain and I can even do it in my office. I highly recommend Clayton Yoga at Work to anyone," Tom Hinton, Chief Investigator for the U.S. Federal Government.
Please watch our YouTube Video of a corporate yoga class here!
Our 60 minute yoga classes are beneficial for all level students whether it is a brand new yoga student or someone who is very experienced. Our friendly and very well experienced staff of 10 yoga instructors understands how to create and provide a unique program that fits your company's needs. We recommend that you begin with a 8 or 10 week pilot yoga class in order to provide your employees with a sample of how easy corporate wellness can be.
With more than ten years of experience, we are aware that every company is different and requires a unique approach. St. Louis Corporate Yoga saves time by offering professional, dynamic, challenging and fun service. We offer a variety of small to large groups of students at various price points that will best fit your company's needs.
Taking the first steps towards corporate wellness is easy! You can reach Michelle Maue at 314-630-1677 or email us through our Contact page.