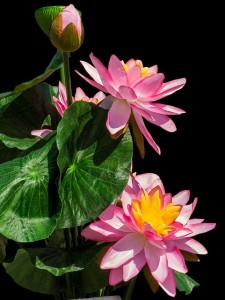 In this blogpost, Michelle Maue, Clayton Yoga International, founder and course leader speaks about her own personal yoga training experience and development.
Have you ever thought about using yoga's immense power to change the world and transform lives in the process?  I know how you feel exactly because these were my thoughts and aspirations when I began teaching yoga 15 years ago.
I began without any formal teacher training to follow my passion and with great excitement started teaching new students at a local community college. After six months, I realized, I really needed to receive proper instruction and began taking yoga workshops throughout the country.  After studying with over twenty popular yoga teachers, I found my true mentor in Jonny Kest.  I traveled to study with him personally several times.  It was there that I fell in love with his style of yoga called Vinyasa Yoga.
Today this style of yoga is most recognized by many respected yogi's as the most popular due to its magical ability to provide healing, lasting and powerful results from students of all walks of life.  After ten years of establishing a popular yoga studio, I began offering sought-after corporate yoga programs to top companies in and around St. Louis, teaching over 11 corporate yoga classes now weekly.  I also had the privilege of instructing the St. Louis Rams professional football team, and additional been chosen to present yoga at top local events with over 20,000 people attending.
My goal was to put together a teacher training program that is based on real life success. Sharing what works and why is my passion.  Perhaps it is the tremendous health benefits or the way your body feels after yoga practice that excites you the most.  Perhaps at a deeper level, you really like being challenged, and find yoga helps you become stronger and ready to take on the next step.  Or you are more comfortable staying present and able to release negativity, fear and judgment.
As a world class yoga instructor, I will show you how to face ongoing and constant challenges one step at a time.  As well as how to teach yoga in any setting from gyms to corporations to yoga studios.  And most importantly encourage you to find your own genuine voice and develop your unique approach to teaching yoga on the basis of your own strengths.
From the first day, our focus is to build up your confidence and give you hands-on support to create momentum alongside with step by step instructions taught by leading experts in the yoga and marketing field.  In summary, Clayton Yoga Teacher Trainings (since 2003) offer small, friendly, and supportive group atmosphere.
Our yoga course is accelerated and easy to follow. And we even include all the marketing steps you need to start, build and expand your own your yoga business.  The upcoming Clayton Yoga Teacher Trainings and dates are as follows:  Guatemala June 28th-July 12th, 2014. The Clayton Yoga Spring Teacher Training to begin April 19th + 20th, 2014.  And our 15 Day Intensive Summer Training Course, July 19th-August 3rd, 2014.  We know that you might have special questions which we cannot cover here. A personal conversation is the best way to find out if this Clayton Yoga teacher Training is the right choice for you!
We would like to invite you to a complimentary coaching call to answer all your questions! Click here to set up your personal free consultation and we will contact you soon: http://claytonyoga.com/call.