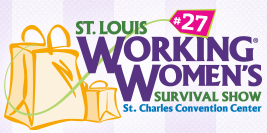 In just a few weeks, Clayton Yoga will present a yoga demonstration at the St Louis Working Women Survival Show! The dates for this fantastic event are February 21st, 2014 at 4:00-4:30pm and February 22th, 2014, from 12:00-12:30pm.  Everyone is welcome to join us at this very special event.  We will be offering you great yoga tips and a fantastic yoga sequence for energy, vitality and joy!
If you are interested, we do recommend that you preregister for free with Clayton Yoga by calling us at 314-630-1677.  We will then as an added thanks, bring you a special yoga sequence handout and yoga music CD at the time of the show!
The Working Women's Survival Show began in St. Louis in 1988. The Show, now in its 27th year, has food, fitness, fashion and fun. The Show features the latest and greatest in product and services from over 370 exhibitors all over the country. Overtime the show has evolved into the Ultimate Girl's Day Out. The experience is like no other; we have a mall, a spa, a fitness club, fashion shows, live entertainment, a chef's kitchen, a 5k race and a vineyard. There is something for everyone of all ages at the Show.
Currently, Clayton Yoga has offered more than 7,000 corporate yoga classes in the last ten years. Clayton Yoga classes are never boring! Each class offers dynamic new sequences that are accessible and challenging for all backgrounds. It is not necessary to teach headstand or other dangerous postures to get the true benefits of yoga. Therefore, our staff only teach postures that are safe and effective.
Our current students in our corporate wellness classes say they enjoy the convenience, excitement and positive energy that onsite yoga classes bring.  Let's help you get corporate yoga wellness on-site classes started today – just call 314-630-1677!
The best part about the Working Women's Survival Show is the inexpensive price.  The cost is just $9 per day!
Here are the four different ways you can pay.
1) Online Purchase
TICKETS ARE JUST A MOUSE-CLICK AWAY Tickets can be purchased online at www.wwssonline.com .
2) Box Office
You can also purchase tickets in advance at the St. Charles Convention Center box office. If purchased on days of the show only, a $1.00 per ticket service charge will be added.
3) Two-day Wristbands
You can purchase two-day wristbands from our online ticket site below. Wristbands are good for two days of access and will be mailed once the purchasing process is complete. Purchase by 2/14/14 and they will be mailed to you. After 2/14/14 they will be held at the box office of the Convention Center.
4)     Discounted Tickets at Dierbergs right up until the day of the show!
We would love to see you.  Preregister with us for free.  Contact Clayton Yoga at 314-630-1677 and ask for Michelle.