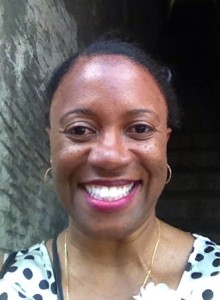 Gladys Smith is an educator and counselor with Webster University for over 13 years!  Gladys is a Licensed Clinical Counselor and Masters Addictions Therapist. She is also a Registered Yoga Teacher and received her 200 Hour Yoga Alliance certification training at Clayton Yoga.
Gladys find that the yoga practice is a great avenue, in helping others realize their true potential.  Gladys finds yoga for herself calming.  "Yoga helps me to slow down more, find her center and stay focused and calm".   She feels more energized throughout the busy week and loves the overall feeling she gets from doing it.
As a result of regular yoga practice, Gladys sleeps much better, is able to focus more on each client whether an individual or larger groups of 7-8.  Gladys can also transition more quickly as she moves from task to task at work.  In the evening, she can let go of things better, discover walking meditation as she parks her car purposely away from her office.  And when home, puts on relaxing music and practices for 20 minutes gentle yoga postures and stretching.
Gladys believes that wellness and balance in an individual's life can be achieved through mindfulness practices and learning to accept the true you. When students find a new soul centered way to view their story, they quickly realize healthier choices and manifest better outcomes.  Helping her clients to become empowered and is something she finds exciting and fun!
Gladys chose Clayton Yoga Teacher Training because she liked the size and the feeling of being at home. She did not want something big, factory type setting, but something small, intimate, and authentic.  She really enjoyed the website and met the owner several times over the phone.  Gladys found the school to be very personable, inviting, and welcoming.  She found that what she enjoyed the most were the explorative questions that were asked of her and put her front and center.  As a teacher now with Clayton Yoga, Gladys loves empowering students with different moves and increasing confidence in her clientele.
Gladys is fun, loving, innovative and confident in her style and approach.  Her world travel inspires a deep sense of inner calm and peace.  For first time students, she recommends you to be yourself and know you can leave class anytime you feel uncomfortable or out of sorts. The atmosphere is always supportive and friendly.  Everyone is welcome to attend.
Please be on the lookout for our next blogpost on Gladys Smith as she explains in further detail her passion for presenting 90 minute workshops on "Healing Feelings".  These workshops will take place at Clayton Yoga and be such an additional treat to students looking for even greater ways to find empowerment and stillness.
You may stop by and take a class personally with Gladys each Wednesday from 6-7pm. We invite you to enjoy our exclusive space and find greater peace of mind.  For more information about Gladys, please call 314-630-1677.  Namaste.