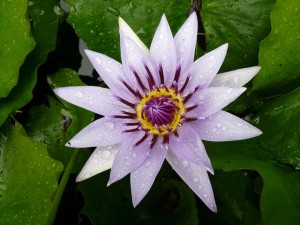 This blogpost was written by a recent Clayton Yoga Teacher Graduate Gladys Smith.  Gladys, a college professor and counselor at Webster University, who combines her gifts for helping others, with the wellness tips she has learned at Clayton Yoga.  Read more about Gladys's experience going through the Yoga Teacher Training with us here!
"My yoga journey has been tremendous.  I could say that I started yoga about 10 years ago, going to a class here or there in the many countries I visited.  When placed in new and challenging situations, would go to what we called the jungle to sit, and just meditate and watch the beauty of the world.  Meditation was a way for me to cope, resist homesickness and fear.
As the years went by and duty stations changed while in the military, I was able to attend more classes, again here and there but always finding something beneficial for me.  I was able to find peace and calmness.  I serve as a Medic so caring for people was my job in the emergency room.  It was here that I could help others with the meditation skills that I had learned years earlier.
I also used yoga to help me with breathing for running.  As I ran half marathons, the breathing helped me through.  It was years before I learned to control my breath and finally run more than for two minutes.  As I focused on my breath, I was able to run further and further.
About a year ago, I began attending classes at various studios while in Chicago, Memphis and then, now St. Louis.  I began to feel complete again.
While in Clayton Yoga Teacher Training, I have come into myself.  I have never felt so alive and at peace at the same time.  I am now able to not judge myself so much and compare myself to others.  I am truly able to see how my skills as a therapist and caregiver can be better and I truly believe are better.  I believe I am a kinder, slower, and gentle person.  Recently, I have begun looking up and attending various types of classes. I have learned to get the hell out of my head and follow my heart.
Upon completing this Yoga Teacher Training, I have discovered that there are still so many other yoga teachers I wish to research and learn more about.  I watched a video yesterday, by Rolf Gate, and it was phenomenal to hear someone say exactly what I have been thinking, just to allow myself to be, and go truly with my heart.
I have learned and grown into seeing this opportunity as a way to share my love of life and the gifts of life, to experience life to the fullest.
My goal is envisioning a successful practice where I would assist busy professionals and bring folks back into their body too.  I want to share with them a true wellness perspective, assisting and easing their worried soul and frustrated mind.  A yoga focused life has opened my mind and heart to serving all who would benefit from the impact.  I am not looking to change the entire world, but what I can do is to help ease the pain of those struggling with anxiety, depression and pain.  I now want to assist and lead others to their authentic power, both in their breath and in their heart.  I would like to help people realize the true strength of their heart and soul.
I want to bring to others a sense of the importance of the here and now and to be kind to the self and first kind to me.  I think yoga has saved my life in the sense of letting go of self-judgment, just to be and go truly with my heart.
I am so excited to learn more and to share more.  Yoga has opened my eyes to the possibility of life and ignited a light in heart. Thank you."
Gladys is now teaching a wonderful yoga class every week for Clayton Yoga on Wednesday's from 5:45-6:45pm. We hope you will stop by and join her soon!  Namaste.