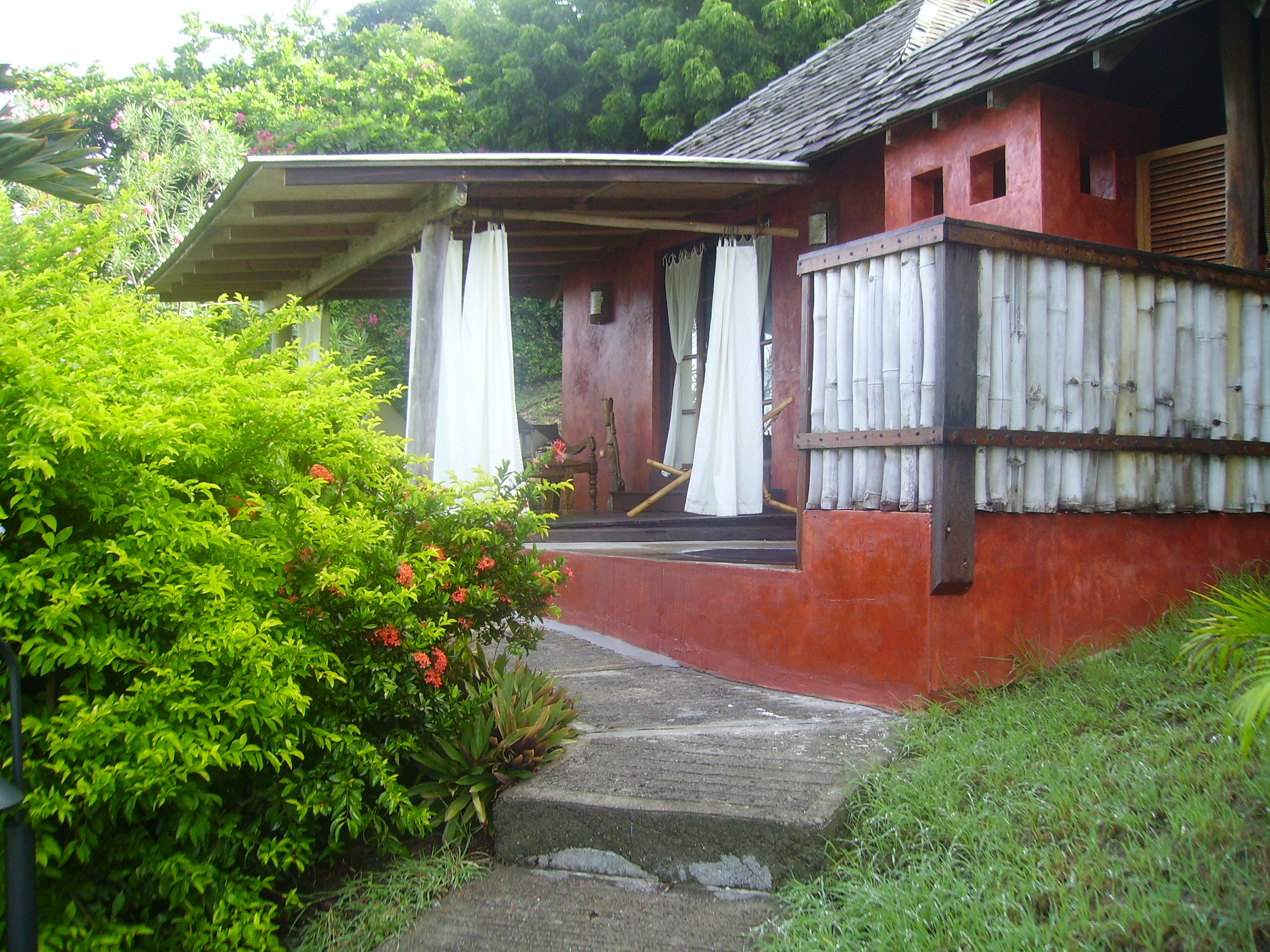 When I first arrived on the paradise island of Grenada, West Indies, I stepped off the plane that evening and felt a gush of  tropical breeze whistle and captivate my ears like honey medicine for a dry, sore throat… Grenada is one island north of Trinidad and one island south of St. Lucia.  I was definitely eager to see what this remote part of the Southern Hemisphere was like…
From the plane, I noticed the beautiful sunset display colors of red, orange and even green and when I commented to other passengers about this stunning view, they also agreed, we were all pointing in the right direction..
My friend picked me up from the airport to drive me to Laluna. During our drive I discovered the first sounds of local island tree frogs sitting up in the trees, singing in unison.   Many places were closed up for the evening as it seemed I brought a tropical storm with me.  But by morning, it was apparent, all major winds had blown north leaving Grenada and our first yoga teacher training course in a perfect state of grace. 
Upon arriving to LALUNA, I was quickly greeted by Nisha, a beautiful young Grenadian whose eyes sparkled and spirit soared.  And that is exactly what it felt like to be a part of this yoga teacher training, magical.  
And even in the dark of the night, as we drove from the airport through the bumpy and rocky road to Laluna, I knew I had found one of the most beautiful places upon this earth to present this yoga teacher training.  Five students from around the world would be participating, representing different nationalities and offered their own worldview life perspectives. There were students from the USA, from England and even from Trinidad, all joined together in the spirit of this fantastic yoga teacher training.  Off and away we went!
As the sun began to set on the second night, again I noticed the tree frogs sounding like a symphony of muse and inspiration.  They began their performance one by one, like yogi crickets and well into the night.  One I had gotten used to them, about 2-3 days into my journey, I found it highly soothing and decided to fall back sound asleep.
One's spirit simply just soared…Yes, for me it is very nice to take a daily swim in the salt water ocean and cleanse my hair, skin and detoxify my body, or sip coffee from my veranda overlooking miles of nothing but ocean and sailboats passing by..
The best of all that Grenada, Laluna and its amenities had to offer was the genuine love light of its people. The real gift of this island is it's natural ecosystem, fruits, plants and food grow everywhere.  And if you feel hungry, simply climb a tree and help yourself to whatever may be in season for that day.  It's great to escape the cadence and schedule of your everyday life and slip into something enchanting and at the same time absolutely the most relaxed, casual, non-pretentious environment possible.  Laluna, is rated as one of the top 100 hotels in the world and top 10 boutique resorts in the Caribbean.  Wendy Bertucci who runs the hotel and participated in this yoga teacher training, is a certified yogi teacher. The outdoor pavilion built nestled between the ocean and rainforest would be home for the next 15 days of yoga.  On the first day, we made homemade bolsters from hotel lounge pillows and filled them with towels.  I could not believe it, it worked!
We began each day with two hours of restorative yoga, two hours of yin yoga and two hours of fun discussion and lunch.  Followed by an hour of blissful one hour yoga nidra with nothing to do but relax and unwind.  As a yoga teacher for 14 years. I had been invited to present a yoga teacher training event in many places, but the location of Laluna in Grenada will always be the most beautiful of candidates.  For the next 15 days, we stretched, shared, laughed, practiced endlessly, and learned lots about ourselves…Five yoga students from day one were given ample opportunity to practice hands on exercises with one another and this interactive gathering provided them with confidence, motivation and inspiring ideas.  Upon graduating from the course, three of the five teachers found the right opportunities and began teaching yoga classes immediately. Everyone received their 200-hour certification through Yoga Alliance! The participants bonded so strongly, that they have become friends for life…  
PLEASE JOIN US! FOR OUR UPCOMING YOGA TEACHER TRAINING COURSE  JUNE 1st-15th, 2012