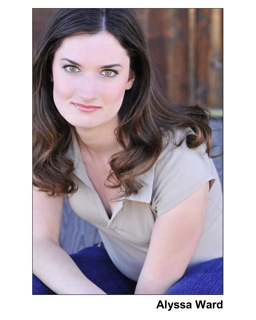 This is the fifth blogpost in this continued series on our Yoga Teachers at Clayton Yoga.  Today we proudly present Alyssa Ward, professional actress, adjunct professor of French and corporate and yoga studio instructor.  If you have not experienced Alyssa's yoga class yet, you are really in for a treat.  Join her any Friday for Happy Hour Yoga, 4:30-5:30 pm.  Everyone Welcome!
What made you want to consider taking yoga?
I took my first yoga class because I was interested in all kinds of movement and dance.  I was pursuing a degree in theatre at the time and I wanted to try something new to help me improve my physicality on and off the stage.
How did you fall in love with yoga?
I fell in love with yoga after taking my first class.  I had no idea how beneficial it would be to me not only physically, but mentally as well.  I felt taller and stronger and all of my problems seemed to melt away.  I continued to take yoga classes whenever I had the opportunity.
What change do you experience in your life as a result of your yoga practice?
For me, yoga is a great way to slow things down.  I am working at several different jobs and sometimes the stress level and work load is overwhelming.  The expression "yoga doesn't take time, it gives you time" is certainly true for me.  After taking or teaching a yoga class, time seems to slow down a bit.  I can clear my head and focus on what I need to do next.  I am able to release the stress from my busy day.  Of course, I continually notice changes in my body as well.  I am growing stronger and more flexible through each yoga practice.
Would you share your favorite yoga tip?
My favorite yoga tip is to focus on the journey and not on the destination.  Everyone moves at a different pace and is living in a different body.  It is not fair to compare your journey with someone else's.  You should enjoy your own journey and take what you need out of your yoga practice.  Everyone comes to yoga for a different reason, so your practice should not be exactly the same as your neighbor's practice.  You may not be able to do each pose perfectly, but the benefits of trying and honoring your own body and mind are much more important.
Would you like to get more details on getting yoga classes started at your company or practicing at Clayton Yoga, please feel free to contact us through our Contact page.
Hope to see you soon at the studio!