Summer Intensive Yoga Teacher Training
 July Intensive: July 23rd-August 6th, 2016 – 6 Spaces left!
Would you like to take this opportunity and reboot your spirit and reset your soul? Not sure how to spend your summer holiday?
The Summer Yoga Intensive Course offers a fun opportunity to practice outdoor yoga, cool off inside our nicely air conditioned building, or relax in early morning hours of the park. Learn how to set aside 15 minutes daily to meditate and receive top expert mindfulness tips, how to reboot and reset your higher spirit, becoming inspired, read great yoga books, meditate with new classmates, and create a lifetime of bonding Summer memories of fun.
The total investment in this entire workshop is $2,450 (plus sales tax). There is no application fee.
Why not take advantage of our complimentary consultation phone call?
Gather your questions and go to this link to set up your free 30 minute phone consultation: http://claytonyoga.com/call/. When you click on the link, it will take you to our appointment scheduling page.
Click here for more details: http://claytonyoga.com/clayton-yoga-teacher-training-courses/.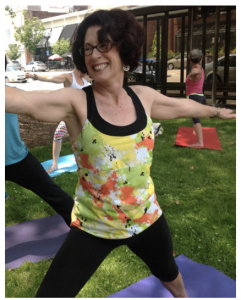 Frances Cobern, Clayton Yoga Summer Teacher Training Grad, 2015!
This intensive Yoga Teacher Training Course is perfect for anyone interested in deepening their yoga practice, or wanting to become a certified yoga instructor anywhere in the world. This very exciting and fun filled Yoga Intensive course is geared for both experienced yoga students as well as those who have 6 months regular yoga practice.
There are several similarities between the Intensive Yoga Alliance 200-Hour Yoga course (15-day immersion course) and our 3-month Yoga Alliance 200 Hour Yoga Teacher Training.  Both courses will offer the same quality of education.  Both trainings will give you the foundation in Vinyasa Yoga to teach both beginners and advanced students as well as to be confident and ready to teach in any location from gyms, to yoga studios and corporations everywhere.
The Clayton Yoga 15 Day Intensive Teacher Training Course is the best choice for you if:
Your schedule permits you to take an intensive 15 day compact training.
You have lots of yoga experience or a big passion to deepen your yoga experience.
A willingness to study and practice at home prior to day one.
Live farther away and plan on staying in St. Louis during the training. (We often have yoga instructors more than happy to have you stay with them)
Thrive in an immersion experience and enjoy learning how to put the tools together from Day One.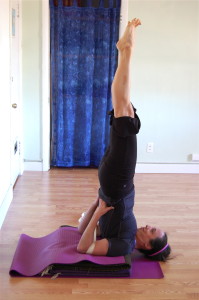 Both the 15-day Immersion course and the 3-month Teacher Training course will offer Iyengar anatomy and alignment as well as safe and challenging yoga sequences for every specialty.  Other key topics include but are not limited to:
Yoga Breathing
Restorative Yoga
Yin Yoga
Ashtanga Yoga
Sanskrit
Adjustments and Modifications
Vinyasa Yoga
Integrating Yoga in our everyday life
We have great news to share!  This summer, we will be presenting a very special Summer Yoga Teacher Training Immersion Course.  This yoga intensive gives you the opportunity to teach yoga all level yoga students in a variety of settings including gyms, yoga studios, and corporations.  In this course, you will learn how to deepen your yoga practice, stay inspired throughout 2016, and create the daily time needed to take care of yourself.
In the 15 Day Intensive Yoga Course, we require all students in advance:
*To learn the complete sequence for the Sun A and Sun B
*Know very well the sanskrit for Sun A and Sun B
*Complete the Passionate Why Essay
*Finish the 10 Key Preparation Steps found in this blogpost here: http://claytonyoga.com/10-key-action-steps-to-a-great-yoga-teacher-training-course/
*Have a printed copy of the full Clayton Yoga Teacher Manual bound and ready. Bring with you Day One!
The following material is required for purchase in order to review in advance of day one:
Yin Yoga by Paul Grilley  (DVD)
Anatomy of Yoga by Paul Grilley  (DVD)
Ashtanga Yoga by David Swenson (Book)
The yoga teacher training course begins the day you sign up, with take home preparation "OM" work and access to our beautiful private yoga teacher training site, located at www.ClaytonYogaTeacherTraining.com.  Before the start of every yoga course, whether 15 day intensive or 3 month, in order to ensure a great experience for each and every student, it is helpful to follow these guidelines:
1 – Each student – before the first day of training – must purchase and watch and cover all required material including the Anatomy of Yoga DVD by Paul Grilley.
2 – It is recommended that students also be familiar with the standing primary Ashtanga Yoga Sequence before day one. You will be asked to demonstrate your proficiency throughout the course, therefore it is in the best interest of everyone that you get to know the standing yoga postures in advance of day one.
3 – Learn the sanskrit term for each posture as learning the names of the poses helps strengthen the vibration of higher energy and increases your confidence when practicing and teaching these postures. An audio sequence file will be provided giving you lots of support and fun with this one!
To better help each student achieve their goals, the Intensive Yoga Training and the 3 Month Yoga Teacher Training will include two wonderful and supportive yoga presentations (one being twenty minutes and the second being 60 minutes) offered by every student in the course.
The Intensive Course will be fun and dynamic. We walk to local restaurants on the weekends and enjoy attending local corporate yoga on-site wellness classes.  In many ways, the intensive course makes it easier to immerse oneself, focus and absorb all the wonderful lessons of yoga.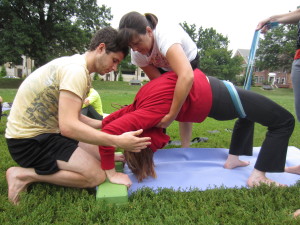 Clayton Yoga Intensive Teacher Training Investment
The total investment in this entire workshop is $2,450 (plus sales tax).  There is no application fee.
Early Bird Special offers available for both upcoming summer yoga teacher training intensives. You will save $200 with full payment of $2,250 (plus sales tax) when your application is received no later than the early bird deadline of June 18th, 2016.
2016 Clayton Yoga Teacher Training Payment plans:
Once payment is received along with the application, access to the Clayton Yoga Private Training Site begins!
●Full payment of $2,450.00 at the time of application.  A receipt is gladly provided.
●A deposit of $900 at the time of registration and remaining $1,650 (plus tax) by the first day of the training.
●A 4-month payment plan with installments of $650 (non-refundable) deposit to hold your space, plus $650 due May 1st, $650 June 1st and $650 (plus tax) due July 1st, 2016.
In order that we may reserve your space, please complete in full our downloadable application and send to us along with your payment to Clayton Yoga, 4 South Central Avenue, #2, Clayton, Missouri, 63105 at your earliest convenience. Please download the application form to our Yoga Teacher Training here.
We hope to see you with us for this fabulous lifetime experience soon. Click the image below to set up a free 20 minute consultation phone call to make sure this is the best fit for you!!  You can directly go to our scheduling site, too to select an available appointment at https://www.timetrade.com/book/XQ29K

For more information about this 3 Month Yoga Teacher Training please click to  this webpage.  Keep in mind, that either yoga teacher training course will show you how to be a lighthouse for others and turn ho-hum yoga classes into extraordinary opportunities to create more synergy, creativity, and fun.
Disclaimer:
Please note:  All Yoga Teacher Training Graduates will complete 180 contact hours and both yoga courses will cover the same material, but offer a different format to support the varying needs of our students.
Refund policy: Due to the nature of this intensive training, we don't offer refunds on this course.
Please note, there is a non-refundable deposit for all three styles of payment.
Sales tax of 8.7% is required to be paid by the second weekend of every yoga training.
We accept cash, check and Paypal. We do not accept credit cards. A receipt is gladly provided upon request.
In using Paypal, you acknowledge and agree to all Refund policy and Paypal payment terms. With Paypal, there will be no refunds given for any type of payment plan.
Absent from the Training and respect for the course, teacher and other students. Once the course has started, in the case of a true emergency, causing your absence, you are permitted to miss up to two full days. It is then your responsibility to notify the yoga instructor in a written format, within 24 hours of your absence, and set up a make up private no later than one week after missed time. If you miss more than two days of the training, and have not directly notified the yoga instructor, you will not be able to graduate. You will not be given any refund or make up training. We ask that you work with the group and interact in a respective, courteous manner to the teacher and other students.  In the event that you cannot do this, you will be given two warnings and then asked to leave without refund.
In special circumstances. After missing more than two days of yoga training, it is possible to take another yoga course with Clayton Yoga. However, you must meet the following criteria. One: you must notify the instructor within 24 hours of your absence stating your intentions in a written format. Two: the coursework up until that point has been completed and met satisfactory requirements. Three: you have a new starting date and have made that known to the course instructor within 48 hours of notifying us. Four: you are willing to pay an additional makeup cost of $500.
Non-refundable deposit: Please note, there is a non-refundable deposit for all three payment plans.
Clayton Yoga reserves the right to change the dates of the course should that be necessary and in this event, permits each student to apply their non-refundable deposit to any future course within one year's time.
Legal Disclaimer: Every effort has been made to accurately represent our program and it's potential. The testimonials are not intended to represent or guarantee that anyone will achieve the same or similar results. Each individual's success depends on his or her background, dedication, desire, and motivation. Developing mastery in any field is dependent largely on the time and effort you put into it. As with any endeavor, there is an inherent risk of loss of capital and there is no guarantee that you will earn any money after completing the course.