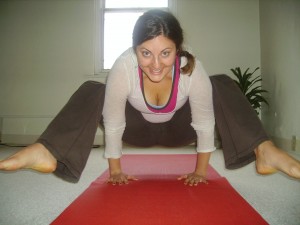 Our new Clayton Yoga Teacher Training Course begins on September 15th + 16th, 2012
I remember quite clearly that Fall day 9 years ago, after yoga class, when Becky Elrod one of our yoga corporate clients asked if I would train her to teach yoga with Yoga Alliance at the 200 hour level.  I had received my certification and I thought initially since I loved yoga so much, why not?  Boy, has this yoga program grown since that first day many moons ago…
Typically when students follow their passion, and register for the training course, there is excitement, nervousness, curiousity and joy!  Our teacher training is special.  First of all, we have pioneered the concept of sharing your passion with 300 yoga students around the world to date.  Secondly, we truly enjoy creating an exclusive fit and community atmosphere of learning and support.
The director of the course, Michelle Maue, has spent 9 summers in Ireland growing up.  These travels back and forth from Ireland really deepened in Michelle a feeling for community,  collaborative sharing, and respect for diverse and unique points of view.
We begin day one with datebooks in our hand, scheduling the remaining weekend dates and times together.  Our teacher training manual, with over 300 pages of relevant, down to earth and practical steps to teaching yoga is available for students upon registration.
In order to better prepare students for the course, we advise that you sign up early, allowing you more time to absorb the material and write down questions and bring them with you to the course.  We recommend that you purchase a 3 ring notebook with 8 subject dividers as we give you many handouts throughout the training covering one of the 8 key areas:  Breathing, Restorative, Yin Yoga, Ashtanga, Sanskrit, Adjustments, Backbends and Inversions, and Meditation.
In this training, you will learn how to reach others heart to heart.  You will learn so much and work hard.   Our purpose is not on perfecting a yoga practice, or to follow a perfect system, but rather develop a set of tools that create a healthy environment in which a lifestyle of excellence results.
Please join us!
Michelle Maue, RYT, MSW
For more detailed information on Clayton Yoga Teacher Training Course, please click here.