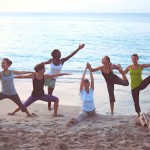 Inspire and Exceed  Your Best!
CHOOSE FROM OUR UPCOMING YOGA TEACHER TRAINING COURSES:
For the first time we offer our all NEW Summer Intensive Yoga Teacher Training between July 27th-August 11, 2013. Admission is open now for this course!

If you are interested to be part of this new training group, please call Michelle at  314-630-1677!
Our 2013 Fall Yoga Teacher Training runs from September 21st-22nd, 2013. Bring datebooks to your first workshop and we will set up the remaining 6 weekends with the group! (While our day starts very early in the morning, we begin with soothing restorative postures to assist you into a gentle and wonderful- wake up!) For more information on our local Teachers Training Course, please click here!

LALUNA  YOGA TEACHER TRAINING COURSE, GRENADA 2014
May, 2014 15 day Caribbean Yoga Training located in the beautiful island of St. George's, Grenada For more information on this uniques Teachers training Course in the Caribbean please click here!
Clayton Yoga, since 2004, has graduated over 300 yoga students internationally.  Michelle Maue, has 5 years as a professional tennis player and over 14 years experience as a corporate and studio yoga owner.  You are welcome to join us as we create a loving, playful and highly supportive atmosphere where each and every student is encouraged to go at their own pace.
Vinyasa yoga, combines breath and sacred movement to help you find your 'inner mojo' and deep relaxation.  Clayton Yoga Teacher Training gives you the basic tools to learn how to access your center and utilize yoga breath bringing sacred movement not just to your mat, but your entire day.  Vinyasa movement is especially effective for deepen one's personal practice or teaching at gyms, schools, corporate or yoga studios.